News
What Can Custom Kitchen Furniture Bring You?
What can custom kitchen furniture bring you? Here are Three aspects:
Personality
Custom kitchen furniture provide you with a personal selection of wood, style, finish, and hardware to achieve your goals and needs. Stock cabinet is made in an assembly line in batches at different times and often results in non-matching materials and finishes. Custom cabinet is made per order with hand selected woods and is all finished at the same time.
Durability
Custom kitchen furniture is made by skilled cabinet makers by hand not on assembly lines and the professionals preparing furniture take pride in their work. They are made by quality materials and a finished product is a work of art. Custom kitchen furniture are quality construction that's built to last.
Perfect Match
Stock cabinets are designed for kitchen sizes and the wall left over will need fillers in the areas. Custom kitchen furniture can be made to any size you desire, which makes all of your spaces usable, taking advantage of nearly every inch in your kitchen. Fillers, while they have their place should be used sparingly as needed. Custom cabinets give you a fitted look unavailable with stock cabinetry.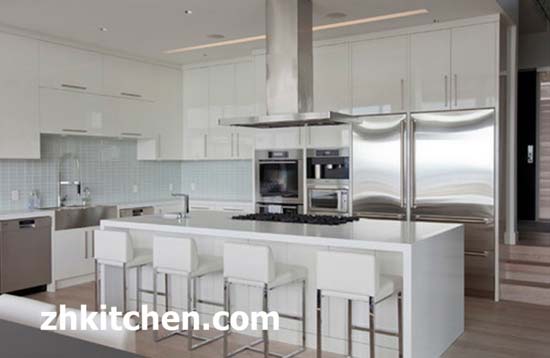 Have an unusual kitchen layout or an unconventional floor plan? To get the most value out of your kitchen, an experienced kitchen designer can guide you through all the options with your best interests in mind by adding custom design elements to your home. Take a moment to peruse through our
custom kitchen furniture
design galleries to find the right look and fit for your home.