News
Looking for kitchen cabinets and 3D wall panel?
As following are inquiries of kitchen cabinets and 3D wall panel from customers, also including tapes and handles.
1. Dear friend, good day, We are the importers of Acrylic 0.8mm and 1mm pasted on plywood on one side and the other side melamine paper/ balancing and the quality of plywood must be WBP with total Hardwood. We had already visited your factory. We also in need of Tape and Handles of same color as acrylic. Please quote your best price. Thanks
2. Hello, i wanted to inquire how much it would cost to buy your kitchen cabinets and ship it to oklahoma city. Thank you.
3. Dear Sir, I am an owner for Ceramic & Sanitary - ware we are interested in your products (3D WALL PANEL) please note that we need to know the price for each meter from every model and we want you to send us samples by DHL
4. hallo i'm from india with deal in this products last 15th years, we are interested work with your products. please give us best rate of your products thanks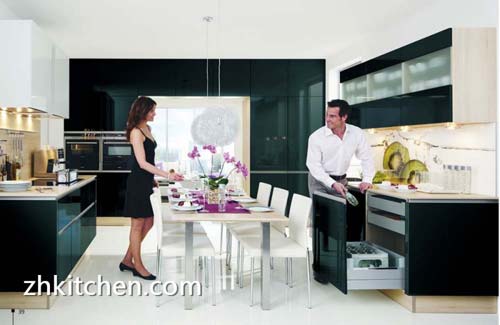 As a new kitchen is a significant investment, choosing a kitchen style that suits you and your home requires serious thought. ZHKitchen can help you on it, no matter what's style you prefer a modern or more of a traditional look. Our professional design team will combine your ideas into our products, to help you more easily define choices on everything from cabinet door styles to what type of tap you would like.
With 18 years experience in producing kitchen cabinet, we 've summarized that the acrylic kitchen cabinets are being selected by the advantages of high gloss, easy to clean, wildly color and pattern designs, and also with competitive price as the raw materials produced by our own workshop.