News
Different Types of Gloss Cabinet Door Designs
Are you going to replace your cabinet doors ? that to show the high performance for your kitchen room?
To make your ktichen roon stand out from many. At ZHKitchen.com, we have preapred our clinents with various surface selection,
This is the most afforable cabinet doors for any types of clients. It can be used for the project which less budget. The most of all that the prices is very competitive as it is made by our own factory.

Glossy ACRYLIC Cabinet Door Design
The doors are consist of MDF with the surface of 1mm acrylic sheet. Our factory using imported Korea acrylic transparent sheet, which will laminate with PVC film by PUR to making color designs.
The style of cabinet door color styles are: SOLID color (PURE color), Pattern color and Metallic color

Glossy & Matt LCT ( PETG ) Cabinet Door Design
The new generation of eco-friendly door panel, it has two surface treatment GLOSSY and MATT.
To acheive your cabinet door design with effective performance, our LCT door design is your best choice, it's anti-yellowing, color consistent, no orange peel, no crack easy to clean and stable performace.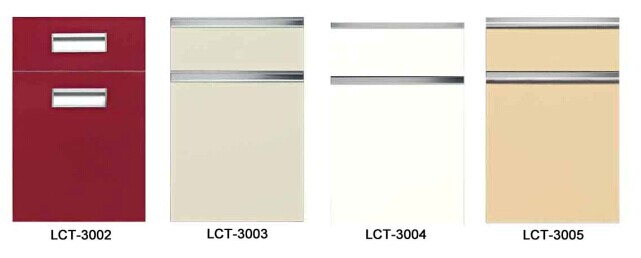 Glossy & Matt Lacquer Cabinet Door Design
The lacquer painted design is most popular in Australia market, it can be single faced or double faced surfaces. The lacquer kitchen cabinet door surface treatment can accomplish with the integrated handle, not like the traditional deisgn which to install extra handles.